NCGA NEXT
We know that the transition from Youth on Course to full-priced green fees can be tough. That's why we created NCGA NEXT for NorCal YOC Alumni.
PLUS you'll receive full NCGA Member Benefits including Official USGA Handicap Index, Tournaments and Events and Exclusive Discounts all for just $25/year.
Members also play golf for significantly reduced rates at participating NCGA NEXT facilities throughout Northern California!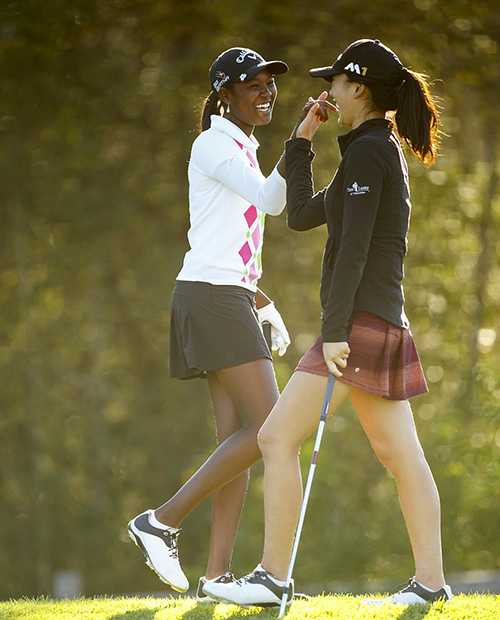 NCGA Membership Benefits
The NCGA has great benefits that support your game and help you enjoy golf more, whether you're a member of a regular club, associate club, or eClub.
Participating Golf Courses
| | | |
| --- | --- | --- |
| Golf Course | Location | Discount |
| Airways Golf Course | Fresno, CA | Weekdays: Anytime | Weekends: After 12pm ($15, 18-holes) |
| Alister MacKenzie Golf Course at Haggin Oaks | Sacramento, CA | 7 Days a week: After 1pm ($15, 18-holes) |
| Arcade Creek Golf Course at Haggin Oaks | Sacramento, CA | 7 Days a week: After 1pm ($9, 9-holes; $15, 18-holes) |
| Bartley Cavanaugh Golf Course | Sacramento, CA | 7 Days a week: After 1pm ($15, 18-holes) |
| Bay View Gold Club | Milpitas, CA | 7 Days a week: 40% off rack rate 11am-2pm only |
| Baylands Golf Links | Palo Alto, CA | Mon – Thurs. $30 after 3pm (October-March) and Mon – Thurs. $40 after 4pm (April-Sept.) |
| Bing Maloney Golf Course | Sacramento, CA | 7 Days a week: After 1pm ($15, 18-holes) |
| Davis Golf Course | Davis, CA | Weekdays: Anytime | Weekends: Anytime ($15 or 15% off, whichever is less) |
| Madera Municipal Golf Course | Madera, CA | Weekdays: After 12pm | Weekends: After 12pm ($15, 18-holes) |
| Poppy Ridge Golf Course | Livermore, CA | Mon – Fri: 2:30-2:50pm, 12:30-12:50pm Call Pro Shop 48 Hours in Advance For Reservation ($35, 18-holes) |
| Rancho Del Pueblo Golf Course | San Jose, CA | Weekdays: Anytime | Weekends: Anytime |
| Riverside Golf Course | Fresno, CA | Weekdays: Anytime | Weekends: After 12pm ($15) |
| Rooster Run Golf Course | Petaluma, CA | Weekdays: Twilight Rounds | Weekends: Twilight Rounds ($15, 18-holes) |
| William Land Golf Course | Sacramento, CA | 7 Days a week: After 1pm ($9, 9-holes; $15, 18-holes) |
| Windsor Golf Course | Windsor, CA | Weekdays After 3pm: Twilight Rounds | Weekends After 3pm: Twilight Rounds ($15, 18-holes) |