September 30, 2019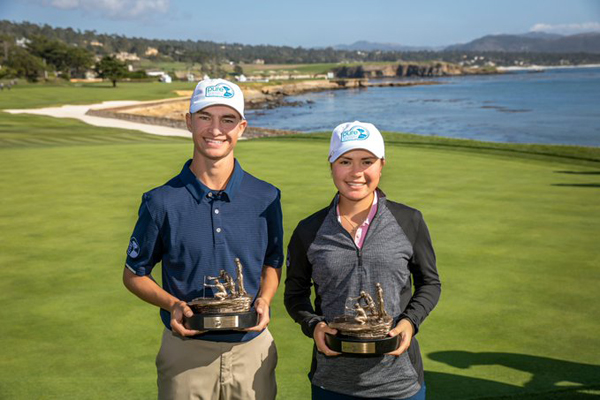 Junior Tour of Northern California member Sam Sommerhauser and Youth on Course member Ashley Menne have joined the likes of Jack Nicklaus and Tiger Woods as a champion at Pebble Beach Golf Links.
Sommerhauser, a 17-year-old senior at Whitney High in Rocklin and member of The First Tee of Greater Sacramento, won the Boys' Pro-Junior title at the PGA Tour Champions PURE Insurance Championship Impacting The First Tee on Sunday with pro partner and winner Kirk Triplett after coming in with a 54-hole score of 23-under 192 (63-66-63).
Ashley Menne, a member of The First Tee of Phoenix and Youth on Course, won the Girls' title with partner Tom Lehman with a score of 18-under 197 (64-68-65).
Fittingly, Sommerhauser finished with a tap-in in birdie on the par-5 18th after a huge drive.
"It was a great experience," said Sommerhauser, who's committed to University of Arizona. "I'm just thankful I got to play and played well."
"What didn't impress me about Sam?," replied Triplett when asked about his partner. "He's a fabulous player with a fabulous swing. He's also got tremendous poise and has the ability to bounce back."
Sommerhauser joins a list of other JTNC players who've captured the title: Matthew Sutherland (2018), Jack Avrit (2015), Michelle Xie (2013) and Casie Cathrea (2011).
Other JTNC members who made the cut at the PURE were Lauren Garces (T-9), defending Player of the Year Dylan McDermott (T-12) and Jasmin Krishna (T-14).