August 13, 2016
Redwood Shores resident and JTNC member Lucy Li claimed the title at the 41st annual PGA Junior Championship at Wannamoisett Country Club.
Li had a final round 2-under 69 to finish with a three-day total of 7-under 206, good enough for a two shot win over co-runner-ups Alyaa Abdulghany and Mariel Galdiano.
"I didn't think I played all that good, but it was really windy today, and that made it tough," Li said. "I am used to playing the in the wind, so that might have been an advantage for me."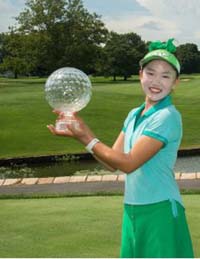 Abdulghany, who won the 2015 CIF Girls' State Championship at Poppy Hills with a then-record score of 2-under 69, came in at 208 after a final round 70. Galdiano, the third round leader. slipped to a final round 77.
In 2014 at the age of 11, Li became the youngest player to ever qualify for the U.S. Women's Open.
Sabrina Iqbal of San Jose, who recently claimed her third straight JTNC Girls' Player of the Year crown, finished T-8 at 212 after a 72.
In the Boys' Championship, the best NorCal finish came from Brendon Hy, who came in T-13 at 283.
-NCGA Staff